Mid-Ohio Collision Center Repair Process
Since established in 2003, our goal has always been to provide high quality repairs to factory standard. We take a step by step approach to ensuring your vehicle is repaired from frame, to body, to the working parts. 
Every vehicle has a full damage report completed. This report is compiled of visual and mechanical items that will be inspected. One we have completed the check list, we form a plan to return your vehicle to the condition it was before the accident. All repairs will be completed by certified industry technicians using state of the art equipment. After damages are repaired, paint is mixed to match your vehicle color. Paint will then be applied in our Downdraft Paint Booth, then heat cured through a bake cycle to ensure an OEM Factory Finish.
Mid-Ohio Collision Center prides themselves on high customer service. We are ready to help you through the collision process, estimates, repairs and assist you with deductible coverage.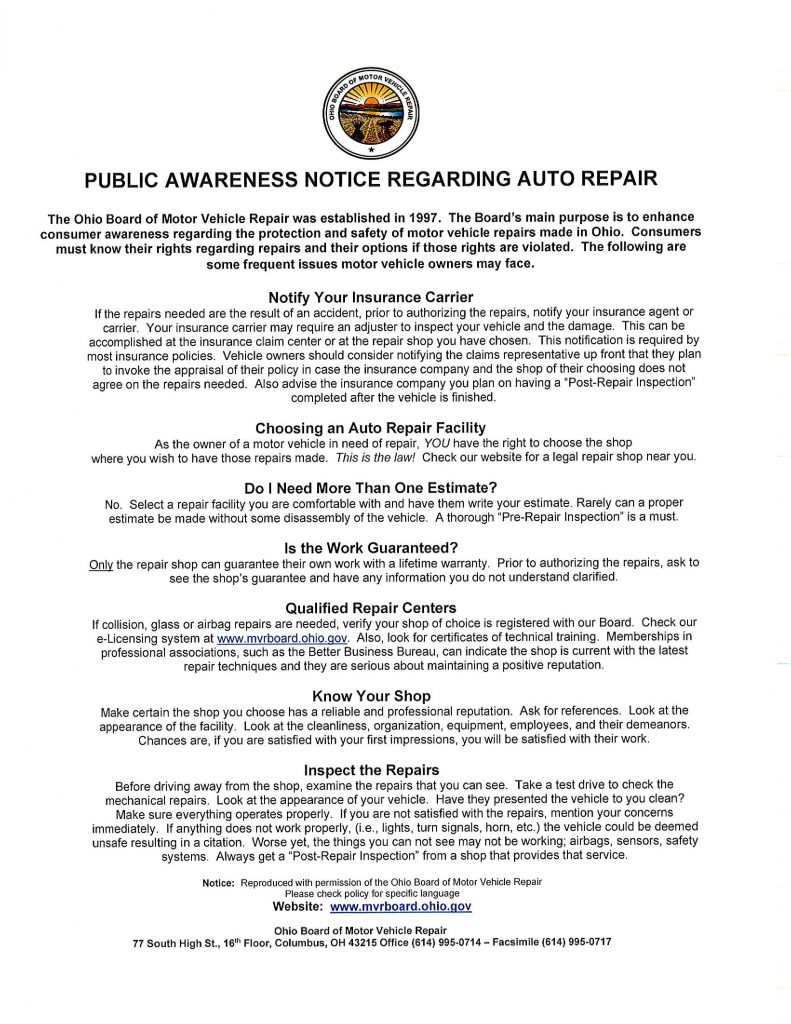 10 tips from the pros when you're in need of collision vehicle repairs:

1. There is no law requiring you to obtain more than one estimate or appraisal.
2. You have the right to go to the repair shop of your choice. Your insurance company cannot require you to go to a particular shop.
3. Your car is the second largest investment you're likely to make. Preserve its value and your safety by having it repaired professionally.
4. Never drive a car that could be unsafe because of damages.
5. Some insurance companies may want you to visit their drive-in claims center before having your car repaired. You can do this, or you may leave your car at our shop and ask that the insurance company inspect the car here.
6. Differences in repair estimates are common. A lower estimate may not include all necessary work. If you're not sure why one estimate is different from another you've received, please ask us.

7. Choose a shop that has unibody repair equipment and certified (by I-CAR or ASE, for example) technicians.

8. Ask if the shop will be using genuine manufacturer (OEM) replacement parts.

9. Ask if the shop offers a repair warranty.

10. Let us help you negotiate your claim with the insurance company.